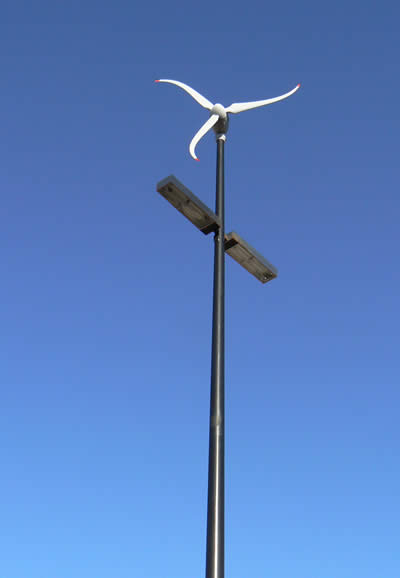 Business & Commercial
Costs, rates and incentives vary state to state. Please contact us for a quote at your location. This is an example of an installation on Maui where costs are higher.
Tax incentives

Just recently the available tax credits have become very generous. The Emergency Economic Stabilization Act of 2008, was passed which included a new federal-level investment tax credit for qualified small wind turbines. That bill was improved upon with the 2009 Stimulus Package, which removed "cost caps." This means you can receive a federal tax credit for 30% of Skystream's installed costs (after any state incentives).

A Hawaii State tax credit is available for 20% of installed price ($500,000 cap). Together the federal and state tax credits equal $8,800 (based on a $20,000 installed price) for business installations. Additionally, businesses will also have the option of receiving their federal tax credit in the form of a cash grant.
Accelerated depreciation is available for renewable wind. See your tax specialist for details.
Payback

With Hawaiian business electrical rates of $.40 kWh (MECO business avg. '08), Skystream's payback, or the time it takes to recover the cost of the wind generator, is only 5.8 years. After that period, the unit will generate free electricity for the next 14 years or longer. If the electricity rates increase, as they have historically, the payback will be realized sooner.

ROI – Return on Investment

The return on investment (ROI) is 12%. When electricity rates increase then the ROI will also increase. This is an amazing return on investment for a business improvement that will save money.
Business Pricing - Maui

| | |
| --- | --- |
| Skystream | $20,000 |
| State and Federal tax credits | -$8,800 |
| Actual price after tax credits | $11,200 |

Complete Turn-Key Price


This is a complete project price which includes: Skystream 3.7 Marine version, 34' Mono tower, shipping from mainland, wireless controller, wiring, disconnect switch, architect review and stamp fee, electrician fee, building permit costs, electrical permit costs, excavation, foundation costs, and installation.


Community
If you order multiple units or a number of businesses (5) within the same area order at the same time we are able to offer additional savings. Due to substantial foundation costs, the overall cost of each windmill may be reduced if multiple sites are excavated and foundations constructed at the same time. Shipping costs may also be reduced if multiple units are shipped together. We are happy to pass along these savings directly to our customers. So, talk to your neighbors!
Award Winning Technology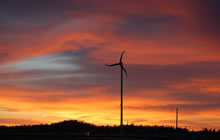 Skystream 3.7™ was named a 2007 Top 10 Green Building Product by Sustainable Industries, a magazine for green business leaders. Skystream 3.7™ was also awarded a 2006 Best of What's New award from the editors of Popular Science and was included in TIME magazine's 2006 Best Inventions. → read more accolades
Windward ...
"With so many issues around global warming, I wondered what I could do to impact the environment in a measurable way, besides activities like recycling and installing compact fluorescent light bulbs. I was hoping that something would come along to help a homeowner take advantage of natural wind resources. It's been a lifetime dream of mine. Until now there was not a technology that made this possible. With Skystream, now it is possible. " - Rena from Illinois