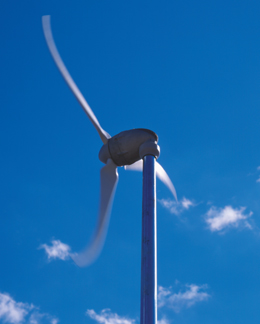 Wind Turbine Information
The Skystream 3.7 is the first compact, user-friendly, all-inclusive residential wind generator (with controls and inverter built in) designed to provide quiet, clean electricity in very low winds. Skystream 3.7, developed by Southwest Windpower in collaboration with the U.S. Department of Energy's National Renewable Energy Laboratory (NREL), is the newest generation in small wind technology for residential and commercial applications. Skystream 3.7 has a 2.4 kW rating and is the first fully integrated small wind generator specifically designed for the utility-connected market. Skystream 3.7 is designed for homeowners and businesses looking to reduce or eliminate their monthly electric bills. Skystream 3.7 uses an innovative 12 foot (3.7 m) rotor and produces approximately 400 kWh per month in a 12 mph (5.4 m/s) wind. The initial prototype has been operating at the U.S. Department of Energy's National Renewable Energy Laboratory (NREL) in Colorado for four years and has undergone extensive performance, reliability and duration testing in accordance with internationally accepted testing standards. Early adopters nationally are reporting up to 50 percent savings on their energy bills.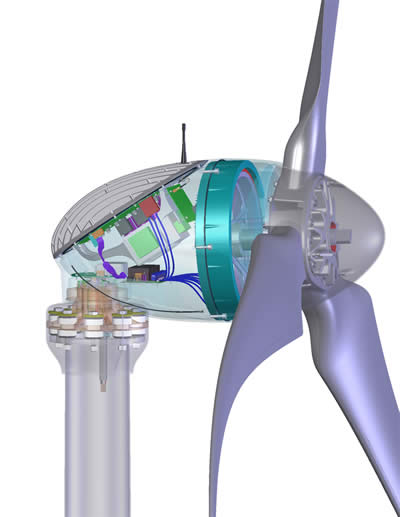 Reasonable Cost

Southwest Windpower invested heavily in tooling to reduce component cost. This makes it possible to sell Skystream 3.7 at a very low price, compared to other wind generators and solar photovoltaic (PV) systems. Depending on the tower costs, wind speed average, tax incentives and escalating electricity costs, the Skystream 3.7 can pay for itself in about 6 years. The wind turbine should save 40% to 80% of a home's energy bills.
Super Efficient Power
Designed to produce energy in very low winds, Skystream 3.7™ begins producing power in an 8 mph breeze with full output achieved at 29 mph. Skystream may produce 400 kWh per month. That is 40 - 80% of the electrical needs of most homes. → wind turbine info
Windward ...
"With so many issues around global warming, I wondered what I could do to impact the environment in a measurable way, besides activities like recycling and installing compact fluorescent light bulbs. I was hoping that something would come along to help a homeowner take advantage of natural wind resources. It's been a lifetime dream of mine. Until now there was not a technology that made this possible. With Skystream, now it is possible. " - Rena from Illinois